Massage Therapy for Winter Garden
Therapeutic massage in combination with chiropractic care form a powerful healing approach that can enhance health and speed musculoskeletal recovery . Therapeutic Massage is a form of manual treatment to the muscles and soft tissues of the body (connective tissue, tendons, and ligaments).
Benefits of Massage Therapy:
Relaxes tense muscles by releasing muscle spasms and trigger points.
Improves posture, joint flexibility and range of motion to prevent future injury.
Decreases pain, inflammation and swelling.
Improves circulation to accelerate in healing.
Relieves stress, both mental and physical fatigue.
What techniques for massage are used in your practice?
Swedish Massage
Deep Tissue/ Neuromuscular Massage
Sports Massage
Trigger Point Therapy
Myofascial Release
Reflexology
Meet Our Massage Therapist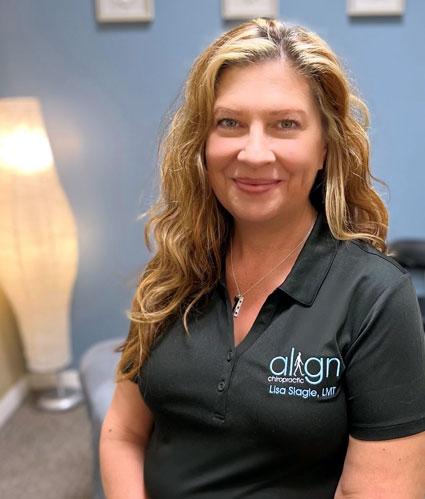 Lisa Slagle, LMT
Lisa Slagle is a Florida State Licensed Massage Therapist, who graduated from Central Florida School of Massage Therapy with the distinction of having the top grades in her class. Lisa also has a Bachelor of Science in Sports Medicine from Radford University in Virginia.
Lisa enjoys learning and continuing to develop her skills to better help her clients. As a massage therapist she uses a variety of techniques to cater to each individuals needs, including: therapeutic massage, deep tissue, Swedish or relaxation, trigger point, cupping, light stretching, muscle release and joint mobilization.
When Lisa isn't at work she loves visiting Disney, the beach, cooking, riding on the back of a motorcycle, is always looking for the next good book, as well as spending time with her daughters, friends and family.
---
Massage therapy works well in conjunction with chiropractic care. Call Align Chiropractic Center at (407) 614-3845 to schedule an appointment.